Jamil Gasanli, head of the committee of protection of rights of Farhad and Rafik Aliyevs, told journalists in Baku that he considered that Russia's Federal Security Service (FSB) and Foreign Intelligence Service (SVR) were actively involved in the arrest of the former Minister of Economic Development of Azerbaijan, Farhad Aliyev.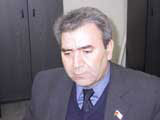 Gasanli believes that the westernized orientation of the minister-reformer in the cabinet of Ilham Aliyev should have excited certain political circles in Russia and they consequently jointly with the pro-Russian forces in Azerbaijan realized their plans concerning the ex-minister. It was not coincidence that Farkhad Aliyev's arrest in October 2005 took place simultaneously with the visit of General Sergey Lebedev, the chief of Russia's Foreign Intelligence Service to Baku, stressed Gasanli, online paper Kavkaz.memo.ru reports.
All these circumstances only confirm Gasanli's suspicions concerning the participation of Russian secret services in Farhad Aliyev's arrest.
Meanwhile one of the most known and influential American senators, John McCain has expressed support to Farhad Aliyev and his brother, the former head of the Azretrol company Rafik Aliyev. According to the lawyer of the former minister, Ramiz Mamedov, the senator has sent a letter addressed to the ambassador of Azerbaijan in the US, calling brothers Aliyevs "political prisoners."
American lawyer of the brothers Aliyevs, Charles Boss, has publicised his conclusion on the case. In his opinion, the charges against the brothers is "a direct consequence of Farkhad Aliyev's positions openly supporting integration of Azerbaijan in the international community, closer ties with the US and the European Union, economic reforms and limitation of monopolism. This contradicted the interests of powerful intraimperous groupings." The lawyer pays attention to the circumstance that any concrete proofs confirming activities of the brothers Aliyevs in an alleged plot against the authority have not been shown.
/www.axisglobe.com/