With organizational support of the Embassy of Turkey in Azerbaijan, the Day of the Republic of Turkey has been marked in Baku, October 29.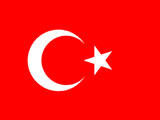 A ceremony was arranged in front of the monument at Baku's Alley of Martyrs erected to memory of the Turkic soldiers who died in battles against the occupants in the Turkish Caucasus Army commanded by Nuru Pasha in 1918.
On behalf of the Embassy of Turkey in Baku, TUSIAB, ATIB, wreaths were laid on the memorial plaque.
Participants of the ceremony also revered memory of the brave sons of Azerbaijan who fell for sovereignty and territorial integrity of Republic.
The ceremony rounded with a holiday program in the evening. AzerTAg