FM of Azerbaijan Elmar Mammadyarov met with visiting Minister of Health of Spain Mrs. Elena Salgado, 30 October.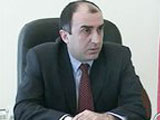 Mrs. Salgado said she is the first member of the Spanish Government, who visits Azerbaijan, and there are large prospects for cooperation in political and economic spheres. The Government of Spain is going to open its embassy in Azerbaijan, she noted.
Minister Elmar Mammadyarov said Azerbaijan pays special attention to relations with Spain. As the country will chair at OSCE next year, it is of great importance to expand cooperation with Spain, he emphasized.
Spain, in the frame of OSCE presidency, will support the efforts for settlement of the Armenia-Azerbaijan, Nagorno Karabakh conflict, Mrs. Salgado noted. Spanish government always upholds versatile cooperation, and therefore, in the position of Secretary General of World Health Organization, she is going to solve some world health problems, the Spanish Minister underlined.
Noting that the health system of Spain is one of the best in the world, she stressed the necessity of conducting reforms in WHO. According to her, it must be more transparent, more efficient and more reliable organization.
Minister Mammadyarov also spoke of reforms, attracting her attention to problems of the refugees and internally displaced persons, expressing disagreement with the indifference of the international community to the problem. AzerTAg