"The US is pleased with Azerbaijan's fight against laundry of dirty money and financing of the terrorism. This is a global problem. The world countries should come together in this problem," Anne E. Derse, the US Ambassador to Azerbaijan told reporters.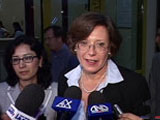 Quoting Azerbaijan President Ilham Aliyev's statement on increasing role of Azerbaijan in the region, the Ambassador said Azerbaijan has great opportunities to demonstrate its leading role in the fight against financing of terrorism.
She also added the US supports establishment of a financial intelligence organization in Azerbaijan.