Georgian Foreign Minister Gela Bezhuashvili will visit Azerbaijan tomorrow.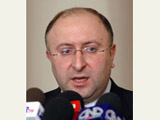 Within his visit the minister will meet with Elmar Mammadyarov, APA reports.
Azerbaijan-Georgia relations, the relationship within GUAM, the security problems in the region and Russia-Georgia relations will be discussed during the meeting. The ministers will hold briefing on the results of their talks tomorrow.
Gela Bezhuashvili will go to Russia to participate in the meeting of Council of Foreign Ministers of BSECO which will be held on November 1-2. Gela Bezhuashvili is expected to have talks with Russia Foreign Minister Sergey Lavrov in Moscow.