Famous Dagestani terrorist Rappani Khalilov who is in international search was appointed "Dagestan front" commander by Doku Umarov, sopresident of unrecognized Republic of Chechnya.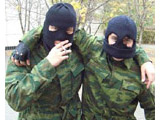 Rappani Khalilov is considered to be the most dangerous criminal keeping illegal armed groups. 45 employees of law enforcement bodies have been killed under his command. The famous terrorist is also accused of the terror act in Kaspiysk resulted in 43 people's death on May 9, 2002. He is also considered to be the organizer of some diversions in North Caucasus and Dagestan.
Prosecutor's Office said that Umarov also appointed some other terrorists to command in different areas. By his order Magomed Yevloyev a.k.a Magas, has been appointed commander of "Caucasus front" except Chechnya and Dagestan, APA reports quoting to Dagestan bureau.