The 83rd anniversary of the foundation of the Turkish Republic is being celebrated all over Turkey.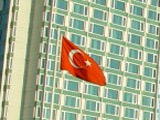 Turkish citizens decorated boulevards and streets with Turkish flags and posters of Mustafa Kemal Ataturk, founder of the country.
Celebrations were organized countrywide, particularly in Ankara, Istanbul and Izmir, as part of the anniversary.
A ceremony was also organized at the Republic Monument in Taksim, which symbolizes the foundation of the country.
Governor of Istanbul Muammer Guler, Commander of the 1st Army Gen. Fethi Tuncel and Istanbul Mayor Kadir Topbas laid a wreath at the monument and sang the Turkish national anthem after a minute of silence.
As part of the ceremony in Istanbul, 2,000 scouts from 32 parts of the city held a parade.
The governor of Izmir, Izmir Mayor Aziz Kocaoglu and Commander of the Aegean Army Sukru Sariisik attended the ceremony held in Izmir.
They laid wreath at the Ataturk Monument after singing the national anthem and paying homage. Zaman