Dagestan Government plans a number of events in our country within Russia year in Azerbaijan.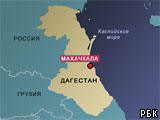 National Policy, Information and External Relations Ministry held meeting against Azerbaijan, APA Dagestan bureau reports.
Deputy Ministers Zikrulla Ilyasov, Haji Abashilov, the chief of Information Office Rizvan Rizvanov and the chief of international relations Department Leila Mahmudova and others made statements against Azerbaijan. They complained of illegal broadcasting of Azerbaijan TV channels in Dagestan and not representing ethnic Dagestanis in state bodies. They also said accusations against Azerbaijani by origin Gurban Gurbanov, the head of Dagestan executive power. Zikrulla Ilyasov said that Zagatala was once given to Azerbaijan on the stipulation that the latter maintain its autonomy.
One of Dagestan parliamentarian told APA Dagestan bureau that there are separatists in above mentioned ministry. "Rizvan Rizvanov, the chief of Information Office wrote book 'If You Are Lezgi' which has anti-Azerbaijan character. The aim of separatists is to harm Azerbaijan-Dagestan relations during the reign of Mukhu Aliyev, Dagestan President Avar by nationality. They want to separate Russia by the support of external forces. But Avars will not let them do it," he said.