PACE President Rene Van der Linden criticized adopted bill by France Parliament on false "Armenian genocide".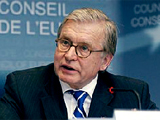 Van der Linden said that it was a mistake to adopt the bill, APA reports.
"This is not the right way, it increases the tension. We need to agree," he said.
In the meeting with Turkey PM Abdullah Gul, Rene van der Linden said that the President of Turkish Republic of Northern Cyprus Muhammad Ali Talat will be invited to make report to PACE.