A regular spy scandal may emerge in Armenia, as even the country's Prime Minister is accused of espionage, however, this time the accusations are not voiced by the neighbouring country, and comes from the representatives of Armenian opposition.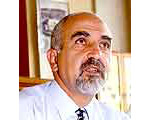 According to online paper MIGnews, the leader of the Armenian political party Selfdetermination Union, former political prisoner Paruyir Ayrikyan has called the country's Prime Minister Adranik Margaryan a "Russian spy."
He told that Margaryan, also a former political prisoner under the Soviets, had been an agent of the Soviet KGB and still today there were people in Armenia who recalled Margaryan's nickname given to him by the KGB.
At the same time Ayrikyan himself did not recall neither the nickname of the current Prime Minister nor the names of people who knew it.
"When you know that the Prime Minister of your country is a spy of another state, it means, that all his actions need to be examined and reviewed," MIGnews is quoting Ayrikyan as sasying. The online paper does not make any predictions on the further development of this particular 'spy scandal.'
/www.axisglobe.com/