Azerbaijan President Ilham Aliyev starts two-day visit to Belarus.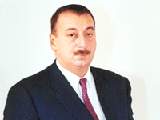 Belarus Prime Minister Sergey Sidorski, Foreign Minister Sergey Martinov and other officials welcomed Azerbaijani President at Minsk National Airport.
After laying a wreath on a monument in Victory Square in Minsk Ilham Aliyev will meet with Belarus President Alexander Lukashenko one-on-one and with the participation of delegation members. Then Azerbaijani President will visit tractor plant. On the second day of the visit Ilham Aliyev will visit Minsk Automobile Plant and Belarus National Library, APA reports.