The GUAM committee for political issues launched an initiative to this effect within the third meeting of the GUAM Parliamentary Assembly, held in Chisinau, Moldova, on Sunday.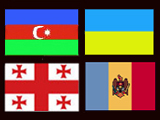 The committee's final resolution proposes to the Council of GUAM foreign ministers to set up a subdivision of peacekeeping forces within the organisation. Later on, this structure is to come out with proposals to get the UN or OSCE mandate to carry out peacekeeping operations.
The committee for political issues was to unveil within the today's meeting a set of measures meant to help solve the frozen conflicts on the territories of some GUAM member states. But the committee asked for a deadline until the committee s next meeting in March 2007.
The GUAM final document also says that the organisation's member states back the initiative to declare the GUAM area as a free economic zone. To this end, the committee's members proposed to create a task force for economic problems within GUAM, which would speed up the process of working out legislative documents necessary for the free economic zone.
It was the first meeting the GUAM Parliamentary Assembly conducted in Chisinau. The next meeting is set to be held in Baku, Azerbaijan, in 2007. MOLDPRES