Azerbaijan's top lawmaker held talks with visiting senior Chinese lawmaker Xu Jialu here on Friday and both sides expressed the hope to enhance cooperation between their parliaments.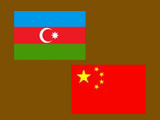 Ogtay Asadov, chairman of the national assembly of Azerbaijan, said parliamentary exchanges, which form an important part of bilateral ties, will help promote cooperation in all areas between the two countries. He said Azerbaijan would like to maintain high-level exchanges with China.
Xu, vice-chairman of the Standing Committee of the National People's Congress (NPC), said that bilateral relations have been developing smoothly since the two countries established diplomatic ties.
"Azerbaijan is an important friend of China in the Caucasus area," Xu said.
"China is grateful to Azerbaijan for rendering firm support to China on the Taiwan question and other issues," Xu noted, adding that China is willing to maintain high-level exchanges with Azerbaijan.
Xu is paying a four-day visit to Azerbaijan. Xinhua