The 192-member General Assembly appointed South Korean Foreign Minister Ban Ki-moon as the next U.N. secretary-general by acclamation on Friday and the veteran diplomat who grew up during a war that divided his country pledged to "dispel the disillusionment" about the United Nations.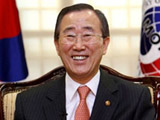 The assembly's action - greeted with resounding applause - capped the remarkable rise of a man who was little known outside of Asia before launching his campaign to succeed Kofi Annan. It also marked a milestone for South Korea which only joined the United Nations in 1991 and still has U.N. troops on the tense border with North Korea.
In a speech mixing humility and forcefulness, Ban laid out his vision for the United Nations whose reputation has been tarnished by corruption scandals and whose outdated practices still need major reform to meet the challenges of the 21st century despite some modest initial steps.
"My tenure will be marked by ceaseless efforts to build bridges and close divides," he told hundreds of diplomats and U.N. staff minutes after the assembly resolution was adopted. "Leadership of harmony not division, by example not instruction, has served me well so far. I intend to stay the course as secretary-general."
During a nearly 40 year career as a diplomat, Ban said, "I have been elated by the successes of the U.N. in making life better for countless people. I have also been pained by scenes of its failures. In too many places could I feel the dismay over inaction of the U.N., or action that was too little or came too late."
"I am determined to dispel the disillusionment," he said.
Ban, 62, will become the eighth secretary-general in the U.N.'s 60-year history on Jan. 1 when Annan's second five-year term expires. He was one of seven candidates vying to be the U.N. chief and topped all four informal polls in the U.N. Security Council. The council then voted by acclamation to recommend his selection.
He said he was proud the be the second Asian chosen to serve as secretary-general. The last Asian secretary-general was Burma's U Thant, who served from 1961-71.
"Asia is a region where modesty is a virtue," Ban said. "But the modesty is about demeanor, not about vision and goals. It does not mean the lack of commitment or leadership. Rather, it is quiet determination in action to get things down without so much fanfare."
"This may be the key to Asia's success, and to the U.N.'s future," he said.
"The true measure of success for the U.N. is not how much we promise, but how much we deliver for those who need us most," Ban said.
When Sheikha Haya Rashed Al Khalifa, the assembly president, asked members of the world body to adopt the resolution appointing Ban by acclamation, hundreds of diplomats and U.N. staff in the chamber burst into loud applause. She then banged the gavel saying "it is so decided."
"I have the honor to announce that His Excellency Ban Ki-Moon has been appointed by acclamation secretary-general of the United Nations," she said. "This is a historic day for the organization as it continues to evolve and live up to the values and principles of the (U.N.) Charter."
Ban will oversee an organization with some 92,000 peacekeepers around the world and a US$5 billion (?4 billion) annual budget whose reputation has been tarnished by corruption scandals and whose outdated practices need reform to meet the challenges of the 21st century.
Annan hailed Ban as "a future secretary-general who is exceptionally attuned to the sensitivities of countries and constituencies in every continent" and said he would be "a man with a truly global mind at the helm of the world's only universal organization."
Annan recalled that the first U.N. secretary-general, Trygvie Lie, told his successor, Dag Hammarskjold, "You are about to take over the most impossible job on Earth."
"While that may be true," Annan said, "I would say: this is also the best possible job on Earth."
He said he had only one piece of advice for his successor when he takes over - "try to make full use of the unparalleled resource you will find in the staff of the organization. Their commitment is the U.N.'s greatest asset..."
The Staff Union, representing over 5,000 staff at U.N. headquarters, welcomed his appointment, saying in a statement it "provides a fresh start for the organization." The union, which has had rocky relations with Annan, said it looked forward to working closely with Ban and his management team on U.N. reform.
"We look forward to a new chapter of constructive and collaborative dialogue between staff and management in order to restore the independence and integrity of the international civil service," the union said.
By tradition, the post of secretary-general rotates among the regions of the world and most countries agreed that this time it was Asia's turn.
Ban has been South Korea's foreign minister for over 2 1/2 years and served as national security adviser to two presidents - jobs that focused on relations with North Korea which he has said will be a top priority in his new job. During a nearly 40-year diplomatic career, he was posted in India, Austria, Washington and at the United Nations.
Speaking for the United States as the host country of the U.N., U.S. Ambassador John Bolton said, "We believe he is the right person to lead the United Nations at this decisive movement in its history, particularly as the U.N. struggles to fulfill the terms of the reform agenda that world leaders agreed to last fall." The Associated Press
/The International Herald Tribune/