Turkey's military said on Friday Armenian soldiers fired into its territory two days ago amid an escalation in tensions after France's passage of a law making it a crime to deny Armenians suffered "genocide" by Ottoman Turks.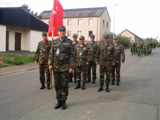 The powerful General Staff called on the Foreign Ministry to investigate the incident on the border on October 11, which it said caused no injuries or material damage.
"Turkish soldiers came under harassing fire from Armenian territories on the Turkey-Armenia border on October 11, 2006," the Turkish General Staff said in a statement.
Turkey closed its border with the ex-Soviet republic of Armenia in 1993 to protest against Yerevan's occupation of territory inside Azerbaijan, a Turkic-speaking ally of Ankara.
Ties have also been strained by claims by Armenia that some 1.5 million of its people suffered "genocide" from 1915 to 1923 on Ottoman territory.
Turkey denies any genocide, saying the Armenians were victims of a partisan war that also claimed many Muslim Turkish lives. Turkey accuses Armenians of carrying out massacres while siding with invading Russian troops.
The military's statement comes a day after France's lower house of parliament approved a law making it a crime to deny the genocide. France is home to Europe's largest Armenian diaspora.
Turkey's problems with Armenia have always threatened to complicate Ankara's entry talks with the EU, which expects all member states to have good relations with their neighbours. Reuters