During a session of the Milli Mejlis (parliament) deputies started discussion and adopted in the first reading the bill "On private guard activity," which was submitted to parliament by the president as a legislative initiative.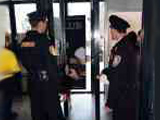 The bill was introduced by the chairman of the permanent chairman commission for legal policy and city planning Ali Huseynov.
Approximately 30 private guard services functions in Azerbaijan. The bill will protect property, transportation, real estate and over private property of physical and juridical persons. The bill does not provide for protection of physical and juridical persons.
According to Ali Huseynov, the creation of such structures will not serve as an alternative to existing state structures.
This is only the legalization of one more kind of entrepreneurship activity. Employees of such services will be provided with only civil arms. The bill also notes the terms of the arm's use.
The bill provides for licensing of these types of guards services and state control over them. Deputies, on the whole, supported this bill, but made amendments and recommendations.
Only deputy Igbal Agazadeh opposed the bill. He said that there are defense structures in the Interior Ministry, and their number should not be increased artificially.
This will create an organized structure of armed groups which could later be used in conflicts between structures, and even disputed between the ruling party and opposition. Turan
/BakuTODAY/