A team of international experts has ended a fact-finding trip to the zone of the Nagorno Karabakh conflict aimed at investigating the causes of massive fires reported in Armenian-occupied territories of Azerbaijan in recent months.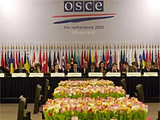 The experts representing the OSCE and the United Nations conducted a week-long inspection of those areas in accordance with a Karabakh-related resolution adopted by the UN General Assembly on September 7.
The resolution expressed serious concern at the reported fires but stopped short of backing Azerbaijan's allegations that the Armenians are pursuing a scorched-earth policy in Azerbaijani districts surrounding the disputed enclave. It asked the OSCE to send a fact-finding mission to those lands and report its findings to the General Assembly by next April.
The OSCE and UN inspectors arrived in Azerbaijan on October 5 and spent the next four days touring the Azerbaijani side of the heavily fortified line of contact east of Karabakh. They then traveled to Karabakh to inspect the Armenian-occupied areas adjacent to the frontline before ending their mission in Yerevan with a meeting with Foreign Minister Vartan Oskanian late on Thursday.
Masis Mayilian, separatist regime's representative, told RFE/RL that the international monitors are due to submit a report to the OSCE leadership within a month. According to Vladimir Karapetian, an Armenian Foreign Ministry spokesman, the report will mainly contain proposals on how to tackle and avert bushfires in the conflict zone.