The Council of Europe's Venice Commission – renowned for its work with constitutions worldwide – is to assist in the preparation of the constitution for Montenegro, which became Europe's newest country after voting for independence from Serbia in a referendum held in May 2006.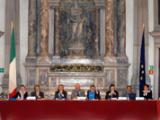 During its 68th plenary session on 13-14 October in Venice, the Commission will discuss its involvement in the new constitution of Montenegro, in the presence of the President of the Montenegrin parliament, Ranko Krivocapic.
Commission members will also adopt several opinions on important legal issues in Ukraine – including freedom of assembly, freedom of conscience and religious organisations and constitutional amendments for the Public Prosecutor's office – in the presence of Ukraine's Minister of Justice, Roman Zvarych, and Prosecutor General, Olexandre Medvedko. Reform for Kyrgyzstan's constitution will also be looked into, in the presence of the President of the Parliament Marat Sultanov. The opinions on Azerbaijan's law on freedom of assembly and Belarus' electoral code are on the agenda as well.
Venice Commission members will also tackle two important European legal challenges: establishing guidelines for referendums and the rights of non citizens and minorities in Europe.
/www.noticias.info/