After the French parliament backed a bill that would punish those who deny the alleged Armenian genocide, which has caused a deal of great tension between Turkey and France, Paris stated that it wanted to continue its dialogue with Turkey.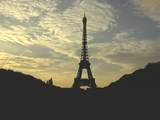 The French Foreign Ministry has stated that Paris is willing to carry on the dialogue with Turkey. Ministry spokesman Jean-Baptiste Mattei said at a news conference, "We are willing to carry on our dialogue, strong cooperation and friendship with Turkey." Mattei also remarked that the bill was "unnecessary and inappropriate." Also reiterating that a long period of time awaited the bill's passing, he noted he would speak about the steps the government took at each phase of this long process.
Catherine Colonna, the minister in charge of European affairs, spoke in the General Assembly hall before the vote on behalf of the government and opposed the bill. Stating that the bill should not be voted on, she said, "As the government, we are against the bill."
Of the 129 deputies who voted, 125 of the votes were eligible. The motion was carried 106-19. The bill still needs to be ratified by both the Senate's upper house and signed by French President Jacques Chirac to become law.
The legislation establishes a one-year prison term and 45,000 euro ($56,570) fine for anyone denying that an Armenian genocide occurred.
The EU Commission has criticized the passing of the bill.
Krisztina Nagy, spokeswoman for EU Enlargement Commissioner Olli Rehn, said, "Should this law become enforced, it would prohibit dialogue that is necessary for reconciliation on the issue."
Nagy said that the discussion of this topic in Turkey was very important. Nagy also mentioned that the recognition of an alleged genocide could not be a criterion as the admission criteria was the same for all countries.
/Zaman/