On October 7, President of the Republic of Azerbaijan Ilham Aliyev phoned to the President of the Russian Federation Vladimir Putin.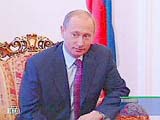 Head of the Azerbaijan State congratulated the Russian President on his birthday, wished success in his activity for welfare of the Russian people, and robust health.
President Vladimir Putin expressed gratitude to President Aliyev for attention and congratulations.
The Presidents expressed consent with successful development of the Azerbaijan-Russia relations in numerous fields, noting hope for further expansion of bilateral relations.
The heads of state also had exchange of views on a number of other issues of mutual interest. AzerTAg