Georgian President Mikheil Saakashvili has warned against Russia's "racist rhetoric" and called for European backing amid the fallout from a spying row.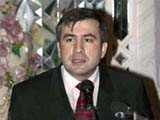 Saakashvili, in an interview with the French daily "Le Figaro," said Russia's "racist rhetoric" was previously directed against the Chechens, now it was the Georgians.
Russian President Vladimir Putin, in turn called on the Organization for Security and Cooperation in Europe (OSCE) to put pressure on Tbilisi to drop its "irresponsible" policies.
Russia severed transport and postal links with Georgia despite the release by Georgian authorities of four Russian soldiers arrested last month on charges of spying.
On October 6, Russia deported more than 130 Georgians to Tbilisi allegedly for lacking proper documents. Russia has also stopped issuing visas for Georgians and police have raided a number of Georgian-owned restaurants. RFE/RL