Re-run, by-, new and first-time local elections are being held in Azerbaijan today. Pooling began at 08.00.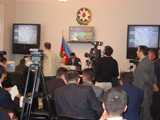 Azer Sariyev, Central Election Commission (CEC) press service chief told the APA ballot papers and envelopes were counted, ballot boxes were sealed and procedures were recorded in the presence of observers. Sariyev said CEC received no complaint since the start of the pooling. Unlike the parliamentary elections exit-poll will not be conducted in local elections.
Sariyev also mentioned that Election Information Center will operate without a break and will make public all received complaints.
Pooling will last till 19.00. 4524 candidates stand for the elections. There are 82 election constituencies and 940 pooling station. The number of vacancies is 1931 in 603 local authorities. There are over 810 electors. Full elections are being held for 164 local authorities, re-run for 141, by-elections for 37, new for 405 and first-time for 22. Out of 4696 candidates three were not recorded and 101 refused to stand for election. 11 candidacies were put of. 45 candidates did not presented there documents and 10 did not take signature blank.
179 observers were registered in CEC, 8425 local and 32 international observers in constituency election commissions.
Igbal Babayev, Election Information Center director said that 42 607 electors took part in the election according the information of 11.00. It is 5, 29 percent of all electors. Shahbnuz-Babek election constituency #5 is the most active (20, 28 percent).