Both Azerbaijan and Armenia appear to be "playing for time" in their conflict over Nagorno Karabakh, the European Union's special representative for the South Caucasus, Peter Semneby, said on Thursday.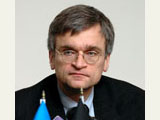 Semneby told the European Parliament's foreign affairs committee that Azerbaijan in particular appears to be hoping that income from energy exports will make it progressively 'richer and militarily stronger.' "The rearmament is a serious issue, or concern, and I think it has contributed to a lack of urgency, if I may formulate it that way, on the part of Azerbaijan to seek a solution to the conflict," he said.
But, Semneby said, Armenia is similarly playing for time. He said Yerevan is waiting to see "what the Kosovo settlement could contribute," and "hoping the situation on the ground would cement itself."
However, the EU envoy said the situation of the Nagorno Karabakh peace talks is "not completely hopeless," adding the Armenian and Azerbaijani foreign ministers will meet this week in a fresh attempt to break the deadlock.
Agreement on the meeting was reached during the American, French and Russian mediators' visit to Baku and Yerevan earlier this week. The envoys said they still hope to broker a framework peace agreement in the coming months. RFE/RL