Repeat, additional, new and first time elections will be held to some local authorities on Friday.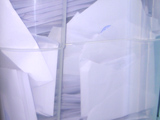 Polls will start at 08.00 and last till 19.00. Representatives of the Council of Europe and other local and foreign representatives will observe the election. 8627 observers were registered in different election commissions.
4525 persons nominated their candidacy to 1931 vacancies in 82 election constituencies. 810 electors were registered in 940 polling centers. The members of YAP, Ana Veten Party, Joint Popular Front Party, Popular Front Party, Civil Solidarity Party, National Independence Party, Musavat Party, Umud Party, Democratic Reform Party, ADP, Justice Party, Communist Party, Citizen Union Party, People's Party, National Congress Party, Democratic Azerbaijan World Party, Liberal Party, National Salvation Party, Social Welfare Party, Great Creation Party and non-party members will participate in the elections.
The results of the election will be made public by Electional Information Center at CEC at 20.00, Central Election Commission (CEC) told the APA.