Azerbaijan's President Ilham Aliyev is scheduled to arrive in Latvia for a two-day working visit next Wednesday [Oct. 4], a spokeswoman for Latvian President Vaira Vike-Freiberga said.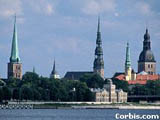 According to presidential spokeswoman Aiva Rozenberga, Aliyev will visit Latvia at the invitation of the Latvian president.
Representatives of both countries are expected to sign several agreements during the visit.
A business forum with the participation of Azerbaijan"s business people is also planned for the time of Aliyev's visit to Latvia.
/The Baltic Times/