Armenian Environment Protection Minister Vardan Ayvazyan made insulting remarks against Jews which angered the Jewish community of the country.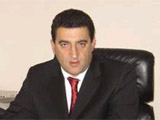 When commenting on the reason for halting cooperating with U.S. global Gold company, Ayvazyan said, "Do you know who you support? You defend foolish Jews! You'd better get to know who are behind this company, they cannot be possibly allowed to Armenia".
Head of Jewish Community of Armenia Rima Varjapetyan considered the minister's statement as an insult against the Jewish people, APA reports.
"I do not think the minister said this by accident. He seemed to have expressed his heartfelt words. Such remarks by a senior official are unacceptable. Vardan Ayvazyan cannot dare tell such words standing face-to-face to us."