Media in Dagestan are carrying out propaganda against Azerbaijan under the head of "Chernovic" newspaper published in Mahachkala.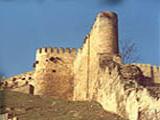 The article in the latest issue of the newspaper intended to strain the relations between Azerbaijan and Dagestan. The articles write that Lezgins living in Azerbaijan are deprived of their rights, suffer pressure and are detained for no reason whatever.
The authors of the articles called Azerbaijan "nations' jail".
"Azerbaijanis occupied our lands. Our young men are sent to hotspot, but Azerbaijani young men serve in Gusar and Khachmaz….There is nothing bad that Armenians and Russians want to help us. They are not our enemies," the newspaper said.
Lezgin nationalists say "Lezgistan' is not an idea any more. It is original land of Lezgins".
They also insult Lezgin intellectuals, because they do not want to help them. They threaten them with publishing their names in special booklet, APA reports.