"Turkey will face pressures for the false "Armenian genocide" till Armenia gives up its groundless claims. The main thing here is Turkey's demonstrating decisiveness and rejecting the baseless claims once and for all," member of Turkish parliamentary delegation to PACE, CHP parliamentarian Gulsun Bilgehan told.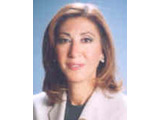 The parliamentarian said there some shortfalls in the work to prove groundlessness of the false claims of "Armenian genocide".
"Despite certain measures, the report of the European Parliament showed there still some shortfalls in this field. This is due to the unstable activity of the authorities.
The French experience showed that pretenders go back when they encounter a severe reaction. For instance, France rejected its bill on recognition of the false.
"Armenian genocide. We'll continue our struggle if the similar bill is on the agenda. I think the authorities make some mistakes and do not work efficiently regarding this matter," she said.
Ms.Bilgehan stressed that the Turkish people will never accept the false "genocide" claims.
"The Turkish people will never accept these claims. All must know this. We are not going to enter the European Union by accepting a false claim," she stressed.
Gulsun Bilgehan is Turkey's second President Ismet Inonu's granddaughter, APA reports.