The issue "GUAM conflicts, their impact on international peace and security" has been included into the agenda of the 61st session of the UN General Assembly by the joint initiative of GUAM member states.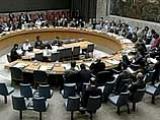 This has been registered as the 27th item on the agenda. The issue will be discussed on 6 November.
In their latest meeting, GUAM Foreign Ministers exchanged views on the debate of these conflicts, APA reports.