Azerbaijan's Embassy in Iran expressed an official protest to the Foreign Ministry in connection with some Iranian businessmen's establishing relations with the alleged regime in Nagorno Karabakh province of Azerbaijan.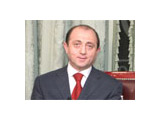 Ambassador Abbasali Hasanov told the APA Armenia was cheating foreign businessmen into taking them to the occupied Azerbaijani territories in order to change the negative international opinion on the regime functioning in Nagorno Karabakh.
"They try to convince businessmen that foreign capital is guaranteed by the government of this regime," the ambassador underlined.
Abbasov said some Iranian tradesmen believe this propaganda and go to Armenia and Karabakh. "Iranian businessmen attended the events organized in the Armenian-occupied lands of Azerbaijan. They agreed to hold Iranian industry and trade exhibition in Nagorno Karabakh in future. I was at Iranian Foreign Ministry and expressed Azerbaijan's official position related to this. The Ministry tried to assure us that the Iranian government has nothing to do with this matter and that it is not keen in Iranian businessmen convinced by Armenians engaging in trade in the occupied Azerbaijani territories."