The Council of Europe Parliamentary Assembly (PACE) Monitoring Committee co-rapporteurs on Azerbaijan Tony Lloyd and Andres Herkel will visit the country from October 29 till November 4 this year.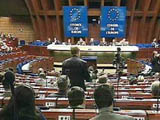 This is Mr.Lloyd's first visit to Azerbaijan as a co-rapporteur which aims to familiarize with the country. During their stay in Baku, the co-rapporteurs will meet with Azerbaijani officials, Tony Lloyd told the APA exclusively.
Tony Lloyd is PACE vice-president, member of Human Rights and Rights of Minorities sub-committees. He is alternate of Robert Walter in the Committee of Economic Affairs and Development.
Mr.Lloyd substituted previous co-rapporteur on Azerbaijan Andreas Gross during PACE summer session.