The foreign ministers of nations forming a Black Sea economic alliance have agreed on the sidelines of the UN General Assembly that they will meet in Moscow for formal talks on November 1, the Russian Foreign Ministry said Sunday.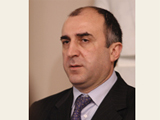 Russia's Sergei Lavrov and his counterparts from the 11-nation Black Sea Economic Cooperation met in the UN headquarters in New York to set an agenda for the forthcoming talks.
Regional conflicts, including Moldova's self-proclaimed republic of Transdnestr and Georgia's breakaway Abkhazia and South Ossetia provinces, will be discussed alongside multilateral economic projects, primarily in transport and energy.
BSEC transport ministers are to meet later this week in the Russian Black Sea resort of Sochi.
The organization, set up in June 1992, includes Albania, Armenia, Azerbaijan, Bulgaria, Georgia, Greece, Moldova, Romania, Russia, Turkey and Ukraine.
/RIA Novosti/