Discussion on the 'frozen conflicts' in the GUAM (Georgia, Uzbekistan, Azerbaijan and Moldova) has started at the 61st session of the UN General Assembly.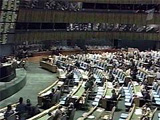 On Friday Georgia's President Mikhail Saakashvili addressed the General Assembly that conflicts in Georgia violate stability in the entire region. He accused Russia of invasion of Georgian territory and demanded the withdrawal of Russian peacekeepers from frozen conflict zones in his country.
Mr. Saakashvili wanted international police contingent to be stationed in the conflict territories. "The presence of Russian peacekeepers has proven unable and unwilling to take any meaningful steps to halt grave such violations."
He said it is necessary to take stock of the extraordinarily counterproductive efforts pursued by the Russian Federation to abuse this unique situation for the pursuit of narrow special interests.
"Any attempt by Russian officials to create or imply that a 19th century-style solution involving deals and territorial swaps in exchange for agreement on Kosovo is not only old fashioned but deeply immoral. If we stand by, we will have accepted that indifference and illegality are the new rules of the international game."
He underscored that Georgia will continue to actively pursue our membership in NATO.
Azerbaijani Foreign Minister Elmar Mammadyarov will leave for New York today to take part in the session. He is expected to address the General Assembly on September 25, APA reports.