"We are ready to make a report on our activities to the parliamentarians and citizens," said Interior Minister Ramil Usubov.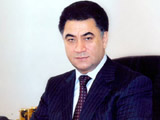 He said the public is regularly informed of the activities if the interior ministry, APA reports.
"I receive parliamentarians, we exchange views on the situation, fight against criminals and reforms in law enforcement bodies. I am ready to meet with any MPs if they want."
Some MPs demanded that Ramil Usubov has to make a report to the Milli Majlis on activities of the ministry.