Azeri Foreign Ministry intends to open a new Embassy in Malaysia.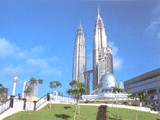 As Day.Az was informed by unofficial source from Azeri Foreign Ministry, Tahir Kerimov, a counsellor of Azeri Embassy in Washington, D.C., became the main candidate for position of Azerbaijan's Ambassador to Malaysia.
Previously, Kerimov served as a personal intepreter of late President Heydar Aliyev.