Azeri and Armenian foreign ministers Elmar Mammadyarov and Vartan Oskanian will discuss settlement to the Nagorno Karabakh conflict with the co-chairmen of the mediating OSCE Minsk Group in New York September 25-26, Azeri officials said.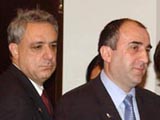 Although it was earlier agreed to hold a private meeting between the two ministers, a decision was made later to organize their separate meetings with the intermediaries, the Foreign Ministry spokesman Tahir Taghizade said.
"This decision was made not by the ministers, but the co-chairs. Their current position is that the meetings should be held separately," Taghizade added.
The previous talks on Garabagh between Azerbaijan and Armenia were held by the two ministers in Paris on July 13. AssA-Irada
/BakuTODAY/