Azerbaijani National Security Minister, chef of State Commission for prisoners of war, missing persons and hostages, General Lieutenant Eldar Mahmudov received the International Committee of the Red Cross (IRCC) Baku office former chief Mary Vernts and present one Martin Amasher.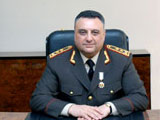 The Minister talked about the positive results of Mary Vernts' work in the country and wished her success in further activity.
He congratulated the new chief on his new appointment. The Minister said he hopes for further and more efficient cooperation between the committees.
"Fruitful relations have been established between the state commission and the ICRC in releasing prisoners of war and hostages and searching for missing persons. The joint activity resulted in releasing 1,388 Azerbaijanis from Armenian capture," he said.
The Minister also stated that it becomes more difficult to find missing persons as much time has left since the ceasefire.
He mentioned the necessity of working out new format of cooperation in this field, APA reports.