"I always thought about the idea of creating political alliance of Turkish-speaking countries.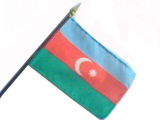 We used to hold such events in Moscow, Leningrad before. It is a great pleasure to now to have this event in a Turkish state. It is a great happiness that God donated to us," Baku State University professor Tofig Hajiyev, who is attending the 10th friendships, brotherhood and cooperation congress of Turkish-speaking Countries and Communities in Antalya, Turkey, told APA'bureau.
The professor said he first attended the Turkish congress in 1993. "I met with the then President Turgut Ozal, Alparslan Turkesh at the first congress. Rajap Tayyib Erdogan's offers are our future ideal. I wish the Turkish world become one of the activists of the globalization process. If we manage to realize Erdogan's offers, Turkish world's problems will be reduced. I believe this congress will give a strong impetus to the cooperation of our countries," Mr.Hajiyev said.