A top U.S. army general met Defense Minister Serzh Sarkisian on Wednesday, ending a two-day visit to Yerevan that reflects increased military cooperation between the United States and Armenia.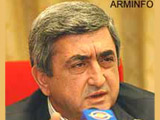 Official sources said the talks between Sarkisian and General William "Kip" Ward, deputy commander of the U.S. military's European Command, focused on U.S.-Armenian defense and security ties as well as the situation in the volatile region.
"Both sides expressed satisfaction at the ongoing cooperation in the area of military training," Armenian Defense Ministry spokesman Seyran Shahsuvarian said in a statement, referring to Armenian army officers studying in the U.S. He said the two men agreed on the need for Armenia's conscription-based armed forces to have sergeants serving on a contractual basis.
The statement added that they also "exchanged views on regional and international developments" and discussed "Armenia's participation in international stabilization initiatives."
While in Yerevan, Ward also visited the Armenian army's special peace-keeping battalion that provides small contingents of troops to the ongoing NATO-led mission in Kosovo and the U.S.-led multinational force in Iraq. The unit has been created with the financial and technical assistance of NATO member Greece. The U.S. military has also assisted in its establishment.
"[Ward] thanked the battalion for its honorable service in the multinational operations in Iraq and Kosovo and emphasized the importance of international efforts to support Iraq's growing democracy and ensure peace and stability in the Balkans," read a statement by the U.S. embassy in Armenia.
Yerevan's participation in those missions is one of the tangible results of U.S.-Armenian military cooperation that began in earnest after the September 11 terrorist attacks in America. Washington has provided more than $20 million worth of military assistance to Armenia since then. The aid is being mostly used for upgrading the Armenian military's communication facilities and training Armenian officers.
"We are working hard together to help Armenia to realize its desire to have stronger relations with the Euro-Atlantic family," Matthew Bryza, a U.S. deputy assistant secretary of state, said during a March visit to Yerevan. "We are pleased with the considerable progress made in this regard over past year." RFE/RL