Prosecutor General of the Azerbaijan Republic Zakir Garalov has met with the visiting Transparency International's Regional Director for Europe and Central Asia Miklos Marschall.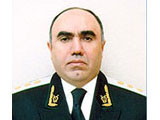 Zakir Garalov expressed gratitude for the attention shown by the organization Transparency International, the world's largest anti-corruption organization, informed the visitor in detail on the measures taken in this sphere under the leadership of Azerbaijani President Ilham Aliyev.
The Prosecutor General noted that Azerbaijan has acceded to a number of Conventions of the Council of Europe in the mentioned sphere, especially underlining the "State Program on Combat Against Corruption."
Having noted, that special value in combat against this dangerous phenomenon is given to establishment of close contacts with public organizations and nongovernmental structures, the Prosecutor General has emphasized importance of cooperation with the "Transparency International-Azerbaijan."
Having noted, that the international organizations highly value strengthening anti-corruption measures in Azerbaijan, Miklos Marschall emphasized the necessity for further steps in this direction.
The guest expressed hope that Azerbaijan, though encountering problems caused by occupant policy of Armenia, would become a developed country soon. The international organizations will assist the country in this, Mr. Marschall stressed.
Secretary of the Commission on combat against corruption under the Public Service Administration Council Inam Kerimov and Executive Director of "Transparency International" Azerbaijan Section Rena Safaraliyeva took part in action.
/AzerTAg/