The Thai armed forces dismissed the government and revoked the country's 1997 constitution on Wednesday after a coup to oust Prime Minister Thaksin Shinawatra.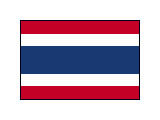 A coup spokesman, Retired Lieutenant-General Prapart Sakuntanak, announced the dismissal in a televised address after the army took control of Bangkok without a shot being fired and announced a commission to reform the constitution. The prime minister declared a state of emergency from New York.
A government spokesman with Prime Minister Thaksin Shinawatra at the United Nations said the coup could not succeed and "we're in control."
Tanks and soldiers took over Government House in Thailand's first coup in 15 years and Prapart said on television the army and police were in control of the capital and surrounding provinces.
The seizure would be temporary and power "returned to the people" soon, Prapart said on all Thai television channels.
The army declared martial law, told all soldiers to report to base and banned unauthorized troop movements, suggesting the military leadership was worried that Thaksin loyalists in the armed forces might attempt a counter-coup.
Prapart said the armed forces and police had set up a body to decide on political reforms, ousting billionaire telecoms tycoon Thaksin in the midst of a political crisis stemming from accusations he had subverted Thailand's 74-year-old democracy.
"Never in Thai history have the people been so divided," Prapart said.
"The majority of people had become suspicious of this administration, which is running the country through rampant corruption," he added.
"Independent bodies have been interfered with so much they could not perform in line within the spirit of the constitution."
Weerasak Kohsurat, a deputy minister in a previous government, told Reuters he believed royal adviser Sumate Tantivejakul would head the reform commission and an interim government would be formed while political reforms were agreed.
Elections would be called soon and Thaksin would be allowed to take part, he said.
After mass street protests against him in Bangkok, Thaksin called a snap election in April, hoping his firm rural following would counter his metropolitan opponents.
However, opposition parties argued that Thaksin had skewed neutral bodies such as the Election Commission in his favor and boycotted the poll. That rendered the election result invalid.
Thaksin's Thai Rak Thai party was widely expected to win a re-run tentatively scheduled for late November, increasing pressure on his opponents in the military and the old establishment to resort to removing him by force.
"There is no other means to solve the political deadlock," said a former senior official close to the top military brass. "It's been almost a year that the country has no democracy, no legitimate government to run the country.
"I've told foreign diplomats Thailand may need to take a step backward, if they think a coup will, in order to leap forward."
The Thai baht fell immediately after Reuters reports of tanks rolling toward Thaksin's Government House office.
In New York, Thaksin phoned a Thai television station to make a statement.
"I declare Bangkok under a severe state of emergency," he said.
The transmission stopped after 10 minutes while he was still talking.
Inside Government House, around 50 soldiers ordered police in the complex to lay down their weapons, a witness said, and tanks and soldiers were seen on many street corners although Bangkok remained quiet.
In his television statement, Thaksin ordered troops not to "move illegally" and told army commander-in-chief Sonthi Boonyaratglin to report to acting Prime Minister Chidchai Vanasatidya.
He also ordered Armed Forces Supreme Commander Ruangroj Mahasaranond to implement the emergency order.
/Reuters/