"Azerbaijani and Armenian Presidents Ilham Aliyev and Robert Kocharian are expected to meet again this year," said Novruz Mammadov, Head of Presidential Administration Department for International Relations.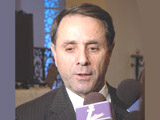 Commenting on the lack of detailed information about the recent meeting of the Presidents in Bucharest, Mr.Mammadov said the talks are on such a stage that it is unadvisable to give detailed information on it, APA reports.
"After the first day of meeting, it was decided to continue the negotiations next day. It means certain issues are being considered. On the other hand, it is difficult to reach an agreement. Thus, Armenia's position is unacceptable. They want Nagorno Karabakh to be given independence. President Ilham Aliyev making Robert Kocharian's position go to fall, stressed that the conflict should be solved only in the frames of territorial integrity. There can be ten or fifteen Armenian states if Armenians living in different parts of the world establish a state," Mammadov underlined.
The state official refused to say concretely what issue was agreed upon in Bucharest meeting.
"The agreements on small details are consolidated, and a final principle is determined. There is nothing new in the latest statement by Kocharian. As a president, he needs to be careful while making statements. His saying "Armenians should be given independence wherever they are" sounds ridiculous," he underlined.