The future of the Romanian initiated Black Sea forum, organized to find solutions to problems in the region, seems problematical since the regions largest country, Russia, was poorly represented.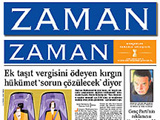 It was noteworthy that while Russia attended the forum at the ambassadorial level, many countries, especially those closer to the West, were represented at the presidential level. While it demanded an "observer" status, Russia did not participate in voicing the summit declaration. "The future of the forum will take its shape in time," said State Minister Besir Atalay, forum representative for Turkey.
Atalay told reporters t Zaman Daily that it was "notable" that Russia was represented by the Bucharest Ambassador, while he assessed that general attendance as "good."
"Democratization and non-governmental organizations are highlighted on this platform, and we will see whether this new platform works or not," Atalay stated cautiously, while saying he believed that voicing common problems would serve its purpose regardless of where they are discussed. This initiative of Romania will not dilute the importance of the Black Sea Economic Cooperation (BSEC), which remains the actual platform for the procurement of solutions to the problems of the region, said Atalay.
Speaking at the Black Sea Forum for Partnership and Dialogue, Romanian President Traian Basescu declared their aim is to unite the countries of the region around the identity of Black Sea and common benefits. Basescu summarized that the forum's basic goal is "democratic transformation, security, bringing an end to conflicts and ensuring economic progress."
The summit decided to cooperate on issues troubling the region such as organized crime, security, energy and economic development. The summit's statement declares the forum will work as a "regional platform where a common democratic and sustainable development vision will be defined," and invites the EU to "interfere more in the region."
Romania, Ukraine, Armenia, Azerbaijan, Moldova and Georgia joined the forum at the presidential level and Bulgaria, Greece and Turkey were represented at the ministerial level. Ukraine, Georgia, Moldova and Azerbaijan, shifting away from the Moscow axis and moving closer to the West in recent years, were represented at the highest political level at the forum that is being closely followed by many countries and international institutions.
/www.zaman.com/