The Monitoring Committee from the Council of Europe Parlaimentary Assembly (PACE) will meet in Paris today.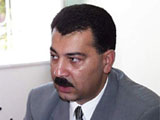 Head of the Azerbaijani parliamentary delegation to PACE, Samad Seyidov told APA that the Monitoring Committee co-rapporteur on Azerbaijan Andreas Gross intends to bring the challenge of the credentials of the Azerbaijani delegation to the agenda of the meeting.

"The report made by the co-rapporteurs Andreas Gross and Andres Herkel on their latest visit to Azerbaijan will be discussed tomorrow. The report also contains an item on the challenge of the Azerbaijani delegation's credentials. However, we cannot say anything about it now," Mr.Seyidov said.
He also said the issue on Azerbaijan is due to be discussed at PACE June Session.