Jack D. Crouch, assistant to the US President and deputy national security adviser, Monday said the US supported nations in the Black Sea region to create sustainable development, enhance security cooperation, emergency response, fight corruption and build transparent and accountable government.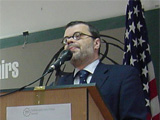 Crouch addressed the first summit of the Black Sea Forum for Dialogue and Partnership, or BSFDP, opened Monday in Bucharest to unite heads of state and government and foreign affairs ministers from Armenia, Azerbaijan, Bulgaria, Georgia, Greece, Republic of Moldova, Turkey, Ukraine, Romania and Russia (as observer), and also international organizations.
This is an ambitious Romanian initiative to raise the profile of the Black Sea region, turn the attention of the international community onto it, and re-define the Black Sea not as a divider, but as a uniter of countries. It also aims to build a decision making body no longer based on consensus, but on inter-state cooperation to solve specific issues, while involving both governmental and non-governmental stakeholders.
In the same vein, Crouch, formerly an ambassador to Romania between May 2004 and January 2005, showed all lands surrounding the Black Sea have been a cultural crossroads – connecting Europe to the Middle East and Central Asia. He added the US was supporting other recent examples of these nations' coming together, like the Black Sea Economic Cooperation and the Southeast European Cooperative Initiative.
Crouch also announced the German Marshall Fund of the United States, or GMF, launched a $40 million Black Sea Trust Monday to support democracy and civil society in the Black Sea region.
Romania's president Traian Basescu, speaking Monday at the BSFDP said the timing of the US grant-making institution to launch the Black Sea Trust was telling, showing the importance the GMF showed the region.
The trust aims to become a long-term initiative that would provide grants to support civic participation and cross-border cooperation in the Black Sea region.
GMF anticipates launching operations of the Black Sea Trust in the fall of 2006, with a start-up budget of $20 million, and is in advanced negotiations with the Romanian government about basing the Trust's operations in Bucharest.
GMF will provide grants to indigenous organizations, including civic groups and NGOs, local and regional governments, educational institutions, and media, in Armenia, Azerbaijan, Bulgaria, Georgia, Republic of Moldova, Romania, Russia, Turkey, and Ukraine.
/www.mediafax.ro/