President of the Azerbaijan Republic Ilham Aliyev on 5 June in Bucharest has received the US Deputy National Security Advisor Mr. J. Crouch.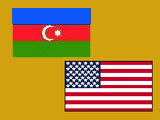 In the meeting, focused was the current level of Azerbaijan-USA relations, was noted successful development of ties in numerous fields, touched on different aspects of bilateral cooperation between two countries. Also was discussed the current status of the Armenia-Azerbaijan, Nagorno Karabakh conflict.
The US Deputy National Security Advisor J. Crouch congratulated President Aliyev on reaching of the Azerbaijani oil to the Ceyhan terminal, AzerTAg reports.
Also exchanged were views on a number of other issues of mutual interest.