Azerbaijani President Ilham Aliyev and Armenian President Robert Kocharian have met for talks on the disputed enclave of Nagorno Karabakh.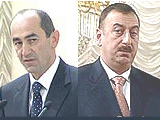 21:20
The presidents of Armenia and Azerbaijan have concluded a second round of talks aimed at resolving the Nagorno Karabakh conflict, but no progress was reported.
Azerbaijani Foreign Minister Elmar Mammadyarov told the Radio Liberty that the issues dividing them are related to general principles, "Azerbaijan's position remains unchanged."
Mammadyarov also said the Ministers may meet if it is necessary. Though the Presidents expected to sign a Joint Declaration, they failed to do it, APA informs.
----------
16:47
Speaking to RFE/RL in an exclusive interview, Steven Mann, the U.S. co-chair of the OSCE's Minsk Group, said that the presidents spoke for 2 and 1/2 hours on June 4. "There was a good atmosphere in the talks and again, a good atmosphere and a detailed discussion," he said.
The Minsk Group, which is co-chaired by the United States, Russia, and France, has been negotiating the conflict since 1992.
Russian Minsk Group co-chair Yury Merzlyakov said the fact that the presidents decided to meet was significant: "Russia's position is that a settlement cannot be imposed on the two parties. They should reach it themselves, with the help of mediators. I think it is clear. The parties themselves bear the main responsibility for reaching a settlement."
The talks are the second time the presidents have met this year, after meeting in Rambouillet, near Paris, on February 10-11. Those talks failed to yield any agreement.
Both presidents are under renewed pressure to reach a framework agreement on solving the Nagorno Karabakh conflict by the end of this year.
Diplomats and observers have said that, with the absence of national elections in both countries, this year presents a good opportunity to reach a framework agreement.
Today, the Armenian and Azerbaijani presidents will both speak at the Black Sea Economic Cooperation Organization in the Romanian Parliament in Bucharest and bilateral talks will be continued at 4 p.m.