The summit to launch the Black Sea Forum for Dialog and Partnership Monday will be attended by the presidents of Romania, Ukraine, Armenia, Azerbaijan and the Republic of Moldova and officials from Lithuania, Turkey, Bulgaria and international organizations, but no Russian officials.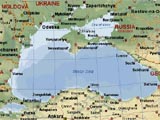 The Romanian Ministry of Foreign Affairs issued a press release Sunday containing a complete list of Summit participants. The list includes no Russian officials.
Invited by Romanian president Traian Basescu, presidents of countries from the Black Sea area or their representatives will attend the summit: Robert Kocharian, president of Armenia; Ilham Aliyev, president of Azerbaijan; Mikhail Saakashvili, president of Georgia; Vladimir Voronin, president of the Republic of Moldova, and Viktor Yushchenko, president of Ukraine.
The list also includes Ivailo Kalfin – deputy prime minister and foreign affairs minister in Bulgaria, Dr. Besir Atalay – state minister in Turkey, and Vironas Polydoras – public order minister in Greece.
Among members of European and Euro-Atlantic communities and international organizations to be present at the summit: Sergei Ordzhonikidze, director-general of the UN Office in Geneva; Terry Davis, secretary general of the Council of Europe; Marc Perrin de Brichambaut, secretary general with OSCE; Brunson McKinley, director-general of the International Organization for Migration; Erhard Busek, Special Coordinator of the Stability Pact for South Eastern Europe; Marek Belka, Executive Secretary of the United Nations Economic Commission for Europe; Robert Simmons, Special Representative for the Caucasus and Central Asia; Peter Semneby, EU Special Representative for the Caucasus and Central Asia.
This reunion is the first in a series of events meant to consolidate the profile of the Black Sea area, to draw the international community's attention to the importance of this region which encompasses opportunities as well as challenges.
President Traian Basescu said on April 26, at the Forum of the Organization of the Black Sea Economic Cooperation, or BSEC, marking the end of the Romanian presidency of the organization, which is to be taken over by the Russian Federation, that discussions among Black Sea area states related to sensitive issues such as security, the fight against organized crime and terrorism, could take place outside of an institutional framework.
He added at the time that Romania would be an active partner in solving problems in the Black Sea area.
At the beginning of June, official sources said Russia should attend the summit, at least on a diplomatic level.
/www.mediafax.ro/