Following the uprisings in Iran's Azeri provinces, a number of Iranian senior officials have admitted to the scale of the demonstrations.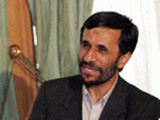 Yaqobzadeh, the mayor of Ardebil said, "The troching of banks and government buildings on Saturday cost the city seven billion Riyals in damages."
He also admitted that young people had set on fire a corrupt loan center known as Imam Jafarsadeq, NCRI informs.
At Revolutionary Guards Corps Joint Chiefs of Staff's morning drills, the Maj. General Rahim Safavi, Supreme Commander of the Revolutionary Guards, said that the uprisings in Azerbaijan, Ardebil, and Zanjan provinces were instigated by outsiders. He added, "We have documents which prove that the outside elements directed the uprisings."
Commander of the State Security Forces (SSF), Maj. General Esmail Ahmadi- Moqadam said, "In a bid to strengthen the operational units, half of administrative work force and two third of their vehicles have been allocated to these unites."