President of Azerbaijan Ilham Aliyev on 2 June received the chairperson of Interstate Aviation Committee Tatyana Anodina.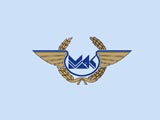 Addressing the President of Azerbaijan, Tatyana Anodina said she is performing an honorable mission to present the Gold medal and Diploma to the head of the Azerbaijani state for special contributions to development of aviation. Special international Council presents this awards to prominent scholars, public figures, world known personalities, she underlined.
"You have been awarded for exclusive merits in provision of dynamic, stable development of civil aviation," Ms. Anadona stressed.
Presenting the high awards on the Day of Aviation, Tatyana Anodina expressed gratitude for contributions, wished President of Azerbaijan success and the people of Azerbaijan - prosperity.
President of Azerbaijan, receiving the awards expressed gratitude and said "in Azerbaijan, we, indeed, do a lot to develop aviation. In whole, the transport infrastructure develops very dynamically. The airports under construction in Azerbaijan will meet international standards."
"And to this end," the President stressed, "we have established a historical date - Day of Azerbaijan Aviation, on June 2. Now, and the aviators have their professional holiday."